There's really no bad time to give diamond jewelry as a gift, but you'll make her year with an anniversary gift of diamonds.
Your anniversary's coming up, and you're thinking diamonds. That's a great idea! If it is your 10th or 60th wedding anniversary, even better as both are traditionally given during these milestone anniversaries. There are so many styles of diamond jewelry, at so many price points, that you'll have no problem finding something. But because of that bounty, making the perfect choice might take a little digging. You can streamline your searching by considering a few factors to make your choices clearer.
Her jewelry style
You might not even notice what jewelry your wife wears on a daily basis, but you should start.
She may choose simple, minimalist pieces for most days and nights.
She might keep it simple during the day, but like to shine with more elaborate styles for a night out.
She also may wear jewelry whenever and wherever she can.
If you have absolutely no clue, try taking the quiz "What's My Jewelry Style" while answering the questions as if you were her.
Her lifestyle
A lot of the time, a woman's day-to-day life can dictate how much jewelry she wears and when. Careers, kids and hobbies may play a part in her overall style and accessory choices.
Do you have young kids? Sometimes grabby toddlers or constantly using and washing her hands — think diaper changes, cooking meals and snacks — will make elaborate rings or dangling necklaces and earrings impractical.
Does she work outside the home? And what does she do? Careers where she wants to promote an aura of financial success, like real estate or outside sales positions, will call for more prominent diamond jewelry. If she's a hands-on health professional — think doctor, dentist or nurse — she might prefer a necklace or earrings over a ring.
Just like work, hobbies where she uses her hands a lot (sports and fitness) or gets them dirty (like gardening), will help steer your choices.
Her jewelry box
It's time to notice what she already has in her jewelry wardrobe. If it's heavy on one thing, like she has tons of necklaces, this gives you a hint to go in the necklace direction. Although, this could allow an opportunity for you to expand her jewelry collection with a different style be it earrings, bracelets or rings. Just make sure to keep in mind her lifestyle – touched on above – if going this route.
Also check out what other diamond jewelry she has. It might be limited to her engagement ring, which means the rest of your diamond buying for your anniversary gift is wide open. Be sure to make a mental note if she has more white metals or yellow metals. That will help you select something that will coordinate easily and match her preference — which gives you bonus points for being a caring and observant partner!
Your choices
You should have learned a good amount about her preferences by being observant and maybe doing a little inventory of her jewelry collection. Also think about how she'll wear it — will it be something she'll wear every day as a symbol of your shared love? Or will it be a special occasion piece that comes out rarely? Here are some great choices for a diamond anniversary gift.
Diamond stud earrings. Whether she's a minimalist or maximalist, a pair of diamond stud earrings for your anniversary is a great idea. They're classics, can be dressed up or down, worn every day or on special occasions. Round diamonds are more traditional and squares look a bit more modern.
Diamond hoops or dangle earrings, if she's already got a pair of studs. They're elegant and special.
A diamond anniversary band. These can be set in white metals or yellow gold. Keep it in the same metal as her engagement ring and wedding band — or add a romantic and stylish contrast with rose gold. It looks fashionable paired with other gold colors. If her wedding set is platinum, go with platinum.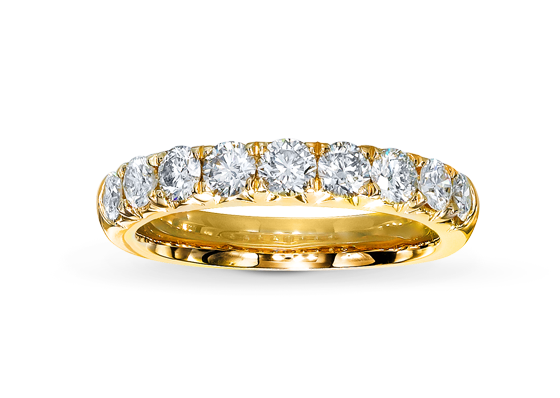 For women who don't wear their engagement ring every day, a diamond anniversary band adds sparkle and shine to her hands. If she does wear her engagement ring every day, you've just added even more fabulousness to her finger.
A diamond pendant. It can be smaller and dainty to wear every day or a big statement piece to wear when she dresses up for work or play.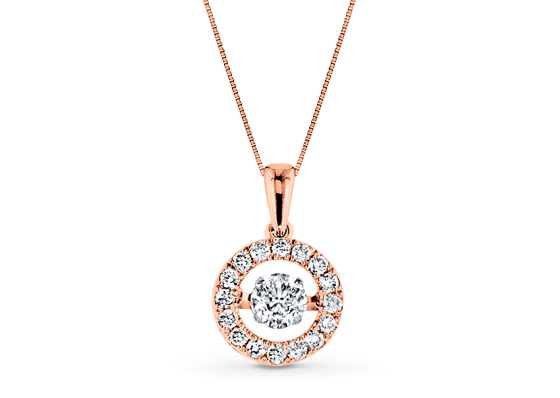 Whichever way you decide to go, she'll be sure to love and appreciate all the time and effort you put into picking out the perfect piece.
If you're ready to shop, Kay Jewelers and Jared The Galleria Of Jewelry have large selections of diamond jewelry of all types.