Any accomplishment or milestone can be made a little sweeter and more memorable when it's marked by jewelry.
Milestones mark the growth and development that are part of life. Accomplishments are goals achieved through effort, talent or sheer perseverance.
What marks a milestone or the achievement of a significant accomplishment in your life? The birth of a baby? Your graduation from college at the ripe "old" age of 40? Staying on a raw-food diet for an entire year?
Milestones can be obvious or personal. There's a couple whose goal was to visit all 50 states in the U.S. before they turned 50. Their gift to each other upon achieving that goal? Another road trip!
Here are some milestones and accomplishments you might not have thought of — and some you definitely have — and the types of jewelry that will mark those moments perfectly.
Not to knock travel, but celebrating milestones and completing goals are the perfect opportunities to give gifts of jewelry. You may give it to a friend or loved one to mark their personal achievement, but you may also buy jewelry as a reward for yourself. Did you stay on that raw-food diet and are now living that lifestyle happily? Get yourself something! Did you fail at something but got tons of valuable experience out of the process of trying? Get yourself something! The piece you buy will be your reminder to "try again."
Here are some milestones and accomplishments you might not have thought of — and some you definitely have — and the types of jewelry that will mark those moments perfectly.
Childhood milestones
Certain childhood moments simply require a gift. Graduation from elementary school, middle school, high school, college and graduate school are all opportunities to say, "Good job!"
If you're a long-term planner, plan out the type of jewelry gift you'll give a child for each of those similar milestones (say, watches or gold chains of increasing weight for each graduation) and use each occasion to celebrate your theme. Back in the day, that's what charm bracelets were for. A PANDORA® or Charmed Memories® bracelet is something of the new normal, but perhaps you could change it up and make it a necklace to which you add a new "charm" each year.
Jewelry for boys is a little tougher, but watches are always appropriate gifts for even young boys (the first might be to help him tell time). A middle school grad might look to a big dive watch. And what budding young entrepreneur with an MBA wouldn't want a Tag Heuer watch to complete the "baby-to-man" set of watches his parents planned all those years ago?
There are other childhood accomplishments that are also good gift-giving opportunities. The first baby tooth lost ... or the last. A first dance recital ... or the first time your child has a starring role in a school play. Your boy or girl may be part of a team that won a regional championship ... or maybe it's just the end of a personally successful season. Don't forget that those accomplishments and milestones mean a lot to the parents as well.
"Big" birthdays
Birthday milestones are particularly appropriate to commemorate with jewelry. Unlike cards, jewelry need not display the year of birth or the age of the recipient — in fact, it's probably best that it doesn't! But the beginning of a new decade might be the perfect time to splurge on the watch he always wanted, or on a high-quality birthstone gem set in a ring or earrings that complement her style.
Commemorate an accomplishment
Did you complete your first marathon? Did he learn how to ballroom dance with you? Did a friend get a new job or a fabulous promotion at the old one? A sibling may have built a new house or bought one for the first time. Instead of saying "congratulations" with champagne, say it with jewelry.
Show your admiration
There are likely some people in your life who give a lot of themselves. Whether they volunteer, raise funds for a favorite charity or take care of a sick loved one, you can absolutely make their day by gifting them with a token of your admiration. It says, "I know what you're doing, and you deserve something wonderful in return."
"Push" presents
The neo-classic gift for new moms is the "push" present. The push present trend started in India, where it was tradition for a new mother to receive jewelry from her parents and in-laws. Celebrities give big push presents: an 8-carat blue tanzanite diamond ring or a $12,000 necklace studded with diamonds and pink sapphires and engraved with the baby's name.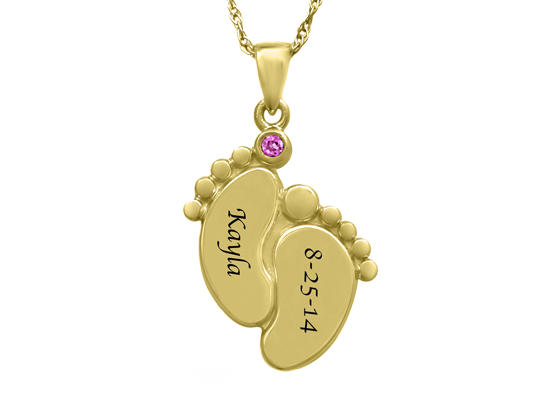 For the rest of us, a gold monogrammed necklace might be just the thing. And you can find beautiful "mother's necklaces" like one imprinted with a sweet baby's footprint. Mother's necklaces may feature keys, hearts, cameos, angels and blue and pink gemstones to celebrate your boy or girl.
These are just a few ideas to help you commemorate someone else's — or your own — accomplishments. Next stop: your imagination!
Ready to shop? For these pieces and more, check out Kay Jewelers and Jared The Galleria Of Jewelry.