Making the case for sets — the ultimate "easy choice" when it comes to beauty and convenience.
From the female point of view, engagements and weddings are about romance and details and excitement and planning. The male perspective can be a bit, er, different. Sure, some guys are happily drawn into wedding planning, but they're in the minority. So if you're looking for engagement rings and need some quick advice about wedding sets, this guide is for you!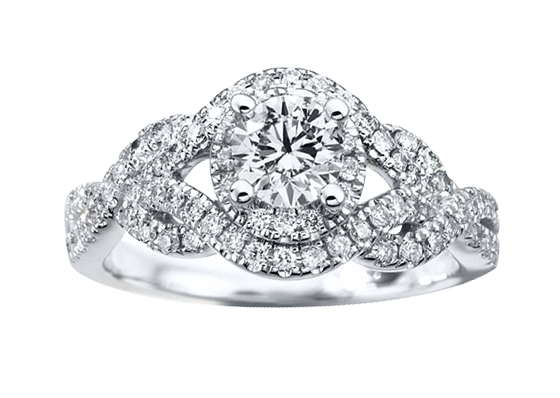 When you think about it, the first real step in wedding planning is picking the engagement ring. Guys are likely a little apprehensive about finding the perfect ring — the one that will make her say "Yes" and love you forever — and not getting ripped off in the process. (Find a reputable jeweler!)
Think one-stop convenience. Two — or three — perfectly complementary rings. Many options to fit her style and yours. Cost savings.
However, a simple fix to the uncertainty of choosing the right engagement ring (not to mention the second step of choosing the wedding band), and one that appeals to that streak of practicality, is the wedding set or bridal set.
This is an area where you and your jeweler might be speaking a different language. In the jewelry world, a wedding set includes the engagement ring, matching band for her and a band for him. A bridal set consists of an engagement ring and matching band for the bride, leaving the groom on his own for his band. Outside of the jewelry industry, the term wedding set is commonly used for both. Now you can speak your jeweler's language and get what you want.
Know before you go
Shopper research shows that men are more likely than women to know exactly what they want when they go shopping. They go in, buy it, go home. They're not browsers for the most part. That's what makes wedding sets and bridal sets so appealing to many men.
Decision making: what could possibly go wrong?
The potential to make a misstep in your ring choices is mitigated when you choose a matching wedding set or bridal set. What kind of mistakes could you possibly make if you don't, you ask?
You could mismatch proportion. The eye is drawn to what we like, and right now your mind might be on going big. That could be fabulous with the engagement ring. But a big wedding band could look awkward or be too heavy for her finger. And if you choose a smaller diamond engagement ring, don't try to "make it up" by getting a big wedding band. Though it's easier to find lower-cost wedding bands than engagement rings because they don't have to have any diamonds, remember that a big wedding band may make a small diamond in the engagement ring look even smaller.
You could mismatch styles. Some guys are better than others at separating their Art Deco from their modern style, Edwardian from Victorian. But most are not professional designers. And while some style combinations are happy accidents, it's a lot easier when the guessing is taken out of the picture with a matching set from a great jewelry store.
You could mismatch metals. This is a big deal if the metals are of different strengths, where the wedding band could scratch the engagement ring or vice versa. (For instance, platinum can scratch white gold.) A bright finish on one ring can make the finish on the other look dingy. And don't even try to match the color of two rings made in different metals or gold karatage.
You could mismatch shapes. If you choose a diamond of a certain shape — for instance the marquise or the pear/teardrop — and match it with a wedding band that wasn't made for it, the pointy end of the gem could interfere with how the wedding band sits on her finger. An additional hazard — the wedding band itself could cause wear on the diamond in the engagement ring and break or chip it.
Lavish beauty plus savings
Traditions have changed and many wedding bands are no longer plain metal. If you want to see diamonds in her wedding band, a wedding set or bridal set is the best way to go.
The diamonds in the set will all be matched in color and overall appearance. Additionally, any design on the wedding band will be created to enhance the design on the engagement ring and fit against the central stone. It may include milgrain (literally "a thousand grains") metalwork, patterned metal, lacy swirls and more.
Many matching sets feature overlapping designs, another way to highlight the central diamond. The wedding band is actually contoured to slide under the engagement ring, further steadying the ring on her finger.
While you can simply purchase a finished wedding set or bridal set from a jeweler, another option is to choose a set you can partly design yourself. For example, the engagement ring might be a semi-mount ready to be set with the loose diamond of your choice. This is a way of adding your own creativity to the ring set, if you desire.
Because you are purchasing two or three rings together, this all-inclusive price can save you money off individual purchases.
Ready to shop? Kay Jewelers and Jared The Galleria Of Jewelry have a great selection of wedding sets.