When is a ring not just a ring? When it has a ring that goes along with it — and we're not just talking wedding bands here.
Engagement ring styles are varied and the choice can be mind-boggling, but let's go ahead and add a bit more complexity into the mix: a matching band. Another ring, you say? Yes and no — we'll elaborate.
There are plenty of reasons to choose a matching wedding band, and, of course, a few reasons not to. We'll start with saying "yes" to the band.
When the match counts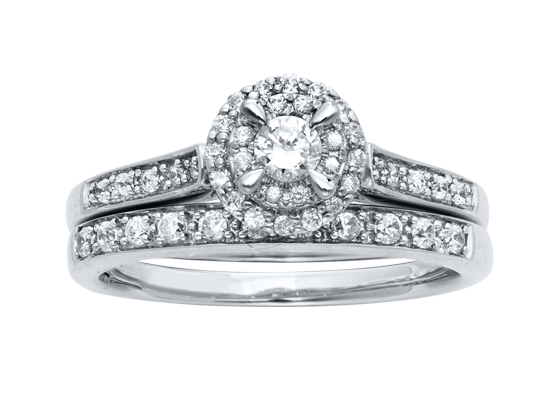 The easiest way to match the engagement ring and wedding band is to purchase a set that's been designed to go together. These "bridal sets" are found at many jewelry stores. A bridal set on the ring finger looks thoughtful, finished and elegant. For a matched look that includes the groom, consider "trio sets," which have a matching engagement ring and wedding band for her, and a complementing band for him.
You can absolutely match a wedding band to an engagement ring without purchasing a designed-to-match set. It just takes a little bit of savvy.
One of the easiest ways to create a match is to look for a matching style to the engagement ring:
A vintage-inspired wedding band to go with a vintage-inspired engagement ring.
A classic solitaire ring with a classic band.
Perhaps a knife-edge band with a contemporary ring.
What is key is that the bands be similar in width. A wide wedding band could overwhelm a smaller engagement ring and vice versa. Think about the rings in terms of proportion.
If the engagement ring has engraving on it, then you want the same engraving style, one that's very similar or none at all. A different engraving style could clash with the engagement ring.
If you want color diamonds and/or gemstones in your wedding band, make sure they match with the colors of the stone or stones in the engagement ring. A wedding band with pink and yellow diamonds is not going to work with a white diamond and tanzanite engagement ring. Trust us!
Matching metals
Metal is another way to think about matching bands, and there's no other way to say this: The metals and colors need to be the same. Platinum and platinum. Rose gold and rose gold. Of course, some rings are made in mixed metals and look perfectly beautiful because they are designed that way. But if you have a two-tone band on your engagement ring, look for a two-tone wedding band to complement it.
Enhancing It
If you've purchased a smaller solitaire stone or one with a lower clarity grade with a little less sparkle, an "enhancer ring" may be the right add-on to boost the "bling factor" of the engagement ring. And you might not be done — you may still want to purchase a wedding band after that.
An enhancer ring dials up the beauty of an engagement ring by complementing it with additional stones (diamonds and/or precious gemstones), which boosts the size of the ring and changes its appearance. Usually enhancers are curved to fit around the center stone of your engagement ring, making them look as if they were created together. Another type of two-sided enhancer accents both sides of the engagement ring; the engagement ring usually slips into an opening in this enhancer, so they appear as one complete ring.
We match but the rings won't
Not everyone is looking to match their rings. It's a personal choice, and it may be yours.
Some people just don't like to match. Maybe the bride-to-be was the girl in second grade with the crazy pink and green socks and orange, blue and black argyle sweater. Maybe that style has evolved, but it doesn't include what she derisively terms "matchy-matchy." If matching is not what's wanted, then it's not what's going on the bride's finger.
And just because the engagement ring and wedding band are worn on the same finger, it doesn't mean they'll always be worn together. Many women only wear their engagement rings during their engagement or for several years into their marriage.
Lives are busy and complex and hands (and rings) can take a beating. Perhaps your fiancée has a job that could put her ring in danger. Or she may put her engagement ring away for safe keeping, only taking it out for special occasions or "dress up." Her wedding band becomes "everyday wear." Kind of like what you'll be doing with the "good china" and the everyday dishes. If your wife-to-be has a lifestyle that works this way, there is no true need to match the styles of engagement ring and the band.
As with just about everything in the "getting to the wedding" process, to match or not to match is a personal question. But now you have some ideas to help you plan your approach. If you're looking to match, think proportions, think metals, think styles, think sets. And if you're not, well, you don't have to worry about it.
Ready to shop? Kay Jewelers and Jared The Galleria Of Jewelry have a great selection of matching sets.