Men's jewelry choices are expanding.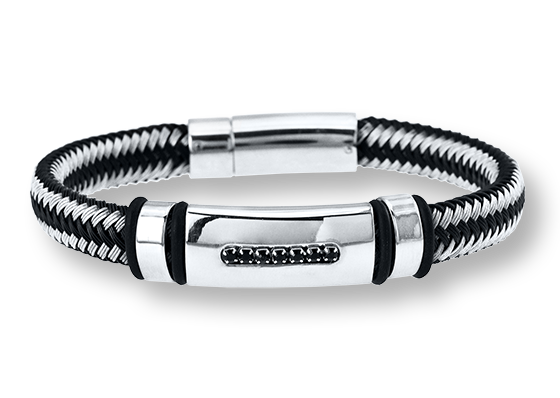 Once upon a time, the jewelry men wore was pretty limited — a class or wedding ring, a watch or two, sometimes cuff links if a shirt or occasion called for it. Tie bars come and go in fashion (they're trending up right now, as suits and ties are cut slimmer these days). Sometimes a neck chain got worn on a night out.
That time is over. Men want jewelry. Men wear jewelry. And there are designs out there to fit any taste, any mood and any occasion. Contrary to once-popular opinions, studies show men are outspending women on apparel and accessories. And designers and retailers have taken notice. So if you're shopping for a special guy or are shopping for yourself, you've got more to choose from.
Men stack too
From the rocker to the stockbroker, stacking bracelets is hot. Take a look around you on the street, on the train or in the boardroom, and you'll see chains, beads, leather or fabric bracelets peaking out from shirtsleeves and sweater cuffs, with a watch or without. Leather bracelets with metal details, like bold clasps or motifs like anchors, and multiple widths are a breakout look.
By a neck
Necklaces are also more popular than ever. While chains were always a classic, bead and ball neck chains with a dog tag or other shape are on-trend. Again, guys are making a style statement by layering a mix of metals and leather cords with pendants.
Dog tags, crosses or other metal pendants are also a great way to make a necklace memorable by personalizing them. Ideas include engraving initials or something important, like the birthday of his child or your anniversary — just so he doesn't forget!
The classics
Don't forget rings — choices go well beyond wedding bands and class rings. A wide sterling silver or tungsten carbide ring is masculine and very fashionable. Gold signet rings — in white or yellow — with a monogram, are tasteful and heirloom-ready.